Posted on November 2nd, 2015
[This is a guest post.]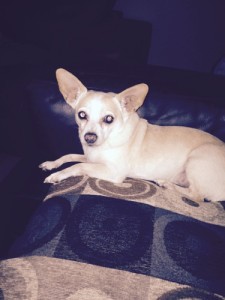 Update: Beanie started the Plechner SARDS protocol the end of July 2015.
Although many of Dr. Plechner's patients recover swiftly, it has taken around 5 months for a near total recovery; with bits of improvement every week or two (so don't give up).
Beanie will be 12 in May. His distance vision is very good, near vision is good, his observation of treats tossed to him is good, menace test is fair-good, cotton ball test is fair-good, extreme thirst - excellent (gone), ravenous appetite-fair (less, but still present), excessive panting-excellent (gone), navigation skills-excellent, night/dark vision-fair-good, energy/vitality-excellent (amazing!!), zest for play, exploring outdoors-excellent (amazing return!!), endurance and activity-excellent (like a dog 3-4 years old), monthly Dr. Twilla and Randy health checkups-excellent (perfect), weight-excellent (perfect and stable).
His gains are/have been 100% stable without decrease or backsliding in any. In fact, he no longer sheds, no longer has asthma, has his sight back, and has the physique and appearance of a 3 - 4 year old dog.
Please feel free to forward this email to any Docs or clients who may need encouragement. And/or add to any web sites. Getting the word out will impact many lives and canines. There is hope and there is help!!
In 2005, I rescued Beanie (a fawn colored, 9 month old, Deer-Head Chihuahua) from a shelter in Hollister, California. He would prove to be my most intelligent and loyal dog (friend) of my entire life. We went everywhere together, even on my Harley, and Beanie looked to be the picture of health.
But in mid-June, 2015, I noticed he was having trouble finding the treats I would toss to him. He had also developed asthma, and shed profusely year round. I attributed it all to age, since he had just turned 11, and didn't think much more about it.  But on July 4th, 2015, my wife Carrie left to do some shopping while Beanie was sitting on the sofa with me. He jumped down, staggered, then crashed into the wall as he tried to get a drink from his water bowl.  Of course I panicked and rushed him to a very reputable, 24 hour emergency clinic in Tampa, Florida where we live.  The GP Doc on call ran various tests and said he appeared to be blind.  Then she said I was lucky because an opthamologist was there on another canine emergency. After a long battery of tests by both doctors, it was decided that Beanie had SARDS (Sudden Acquired Retinal Degeneration Syndrome) and was clinically blind.  There was NO KNOWN CAUSE, NO CURE, no chance of his vision ever returning, but he could learn to adapt if none of the furniture in our home was ever moved etc.
After the shock wore off I spent days and nights researching SARDS, barely sleeping some nights as I read articles, research papers and stories by other sad SARDS dog owners. In the meantime I took Beanie to 3 other veterinarians (5 total), including another opthamologist where he was examined and an ERG performed. It was determined once again that Beanie had SARDS because:
He was completely blind in both eyes, verified by menace and other tests.
His eyes were clear and normal appearing.
He had a flatline ERG eye test.
I was given a handout on SARDS, referred to a book on how to learn to live with a blind dog, and it was reaffirmed once again that there was no known cause, no cure and no hope whatsoever for a SARDS dog's vision to ever return.
I ABSOLUTELY REFUSED to accept any of the 5 doctors' findings and went home to dive back into my computer. During my hundreds of hours of previous reading online, I'd kept running into research, case studies, and miraculous cures for SARDS by a Dr. Al Plechner.  Something felt right about what I read - it wasn't just hope; it just seemed right, although many vets said it was a joke and entirely baseless.
I began trying to find Dr.Al Plechner but couldn't seem to pinpoint where he was.  But since I had read so much of his material online, I called a recommended company called Ambertech who made natural remedies for animals. In speaking with them I was told Bill, a colleague, knew Dr. Plechner and he might call him for me.  I truly felt like I had just won the lottery.  It was now the end of July and Beanie had been completely blind, very depressed, and very confused for a month already.
Dr. Plechner immediately called me and told me to try and find a doctor who would agree to apply his SARDS test and protocol, and have that doctor call him in LA. He further stated that most of his profession find both him and his research a joke and it would be difficult to find a vet who would participate.  Well, Beanie's doctor here in Tampa, Dr.Mark Twilla, immediately agreed to send Beanie's blood to National Veterinary Diagnostic Services in Texas, the only lab Dr.Plechner uses.  Dr. Twilla further agreed to work with Dr. Plechner out in L.A. via telephone and instantly began Dr.Plechner's treatment.  Dr. Plechner told me he had been successful with many dozens of SARDS dogs, don't lose hope, and continue the treatments.  He told me that it could even take a few months, but Beanie would start getting his distance vision back, then if not too much retinal tissue damage, his near vision. In fact, Dr. Plechner accurately predicted every single step of Beanie's recovery.
For 3-4 weeks there was no change. Then in mid August Beanie would momentarily turn his head if I shined a bright flashlight in front of his eyes.  But he continued to bump into things and just stand in the middle of the room and stare with his head hanging low.  We continued the treatments at Dr. Twilla's office and all of us remained hopeful. Then in mid September, while I was away, Carrie called me and told me Beanie seemed to suddenly be able to navigate his 20-30 minute walks again, without stumbling or confusion!!  As soon as I returned I realized that he had a fair amount of distance vision back and I was beyond excited!!!!  Dr. Plechner, while extremely caring, took it all in stride as this was the 'norm' with his protocol. Then, just days ago, his near vision returned and Beanie is 100% completely his old self again - HAPPY, VERY ACTIVE AND SIGHTED.
Since this SUCCESS story is already long, I will only add that Beanie now has both his distance AND near vision back. While he is his old happy and very active self, he lost something in the process of regaining his vision.  He no longer has asthma and he no longer sheds profusely!!!!!!
Words could never describe my gratitude to Dr. Plechner and his miracle, and Dr. Twilla for believing. All I can do is spread the word and hope that anyone reading this story will take immediate action for your dog's survival and your own well-being.  There IS ABSOLUTELY A CURE FOR SARDS, and there is now a known cause thanks to Dr. Al Pechner and his decades of research. (Please watch Beanie's progressive return of vision on my videos: #1 through #6 - SARDS Blind dog can see).
Please believe what I have come to know as fact: THERE IS A CAUSE AND A CURE FOR SARDS!
Dan Murphy and Beanie