Posted on October 4th, 2013
This is a guest post by Sarah Baumgartner
Where to start.... Dr. Al Plechner is a genius with a giant heart!
I want anybody that is on the fence to please read through so you can see for yourself how Dr Plechner is changing lives every day!!
I came across his website several months back as I was researching desperate to find something that would help my Chihuahua that I had recently adopted from the pound. When he first came to me he was healthy and my thoughts were that if he is healthy after living 2 months at the pound with all the stress as he is a shy little thing I thought for sure I had done something good and also getting a healthy dog.
As the months developed he started getting intense itchy skin and sores were developing and he started loosing his hair. I tried all kinds of remedies online and also worked with my vet using traditional treatments i.e. flea control and steroid tablets and the list goes on. I tried every dog food, I even was cooking for him as I also have a Miniature Pinscher who suffers from allergies, specifically food allergies but her symptom's were all internal, so I am well aware of how food allergies effect dogs.
I couldn't keep Hiccups teeth clean as soon as I got rid of the tarter it would come back within days, if she ate something bad she would develop bloody stools and if it got really bad she would also start vomiting and sometimes even red blood. She started hacking so I was afraid she had heart worms, but it was the acid in her tummy that was getting worse. So on my venture to find help for Boss Hogg, my new little Chihuahua, I started thinking about how they both are showing signs of allergies but one had external and one had internal but both were going down fast and nothing I could find was helping.
So I found myself reading more and more about what Dr Plechner had to say. It was after everything I thought was exhausted that I finally contacted Dr Plechnerby e-mail (and the delay wasn't that I didn't instinctively believe he could help it was his location him being in CA and me in TX and of course the money that might be involved had me procrastinating). It was just a couple of hours later that he called and for an hour he went over all that he does and that he could help me. I knew immediately that what he had to say was what was happening to my dogs. It made perfect sense that it was nothing I was doing or not doing but that they were both just ticking time bombs and it was just coincidence that they both started going downhill fast at the same time. Now here lies the problem his methods are not traditional so regular vets shy away, what is common among all humans, if you can't understand it or it is not the norm then there is no chance it could work. But people I say to you, there are brilliant people all over the world that are doing amazing things but we are all so scared to step outside our box and then to make it worse you approach your regular vet for feed back and it is just as scary and unfamiliar to them that they talk you out of it or just refuse to help based on fear or lack of knowledge. This is crazy! here is a man that is changing the world both for our dogs and humans and yet he is still not being taken seriously. How does this happen???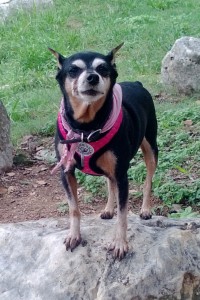 I went through the first set of blood work with my local vet and friend and it was so hard to draw blood, Boss is 5 years old and weighs about  9 lbs  and Hiccup is the same weight but a Miniature Pinscher that is almost 12 years old. It took my vet and I literally almost 2 hours to draw the amount of blood we needed for testing. We poked every vein in the neck and legs and it was horrible. Anyway results came back and it was so strange but also fascinating that their blood work was almost identical. That was my eye opener!!  So we started the treatment per Dr Plechners suggestions and my regular vet was taken back by the high doses even expressed how uncomfortable she was giving my dogs their treatment but she said she would do it for me. Well within days both dogs were doing dramatically better. Hiccups hacking stopped and Boss stopped itching. Dr Plechner told me to continue feeding them what I had been giving them which at this point I was giving Boss white potatoes, chicken and green beans and Hiccup was getting hamburger meat and rice and green beans cause these were the only things I could find that they tolerated. The improvement was a miracle. The medication was working even if it was unconventional to most. Sometimes you just have to have faith and look outside the box. I can't tell you how happy I was, the stress even I endured watching them both on a daily basis live uncomfortable to say the least drove me nuts.
After several weeks Dr Plechner suggested we do blood work once again and this is where it is even more amazing, we got enough blood from both dogs with one poke each. I was like look your spot on today I told my vet thinking perhaps last time she was not feeling well that's why it was so hard to draw blood, she stated very clearly NO that my dogs within weeks are dramatically healthier, I could tell even she was surprised and amazed!! And then to top it off Hiccup was going blind and I chalked it up to old age, you know cataracts but Dr Plechner told me about SARDS and how his treatments fix that too well I didn't think much of it but her eyes are much clearer, no more cloudy eyes but instead now I can see her eye color again and she is no doubt seeing better!!!
The blood work came back and the results were a little different this time but both had highs and low reads just their numbers weren't so close but Dr Plechner had me increase the dosage and I thought I was going to see some negative results having to higher the steroid dosage but they are only better after the adjustment. So what can I say!! he is a wonderful kind man and he is truly humble but yet brilliant and the cost of treatment is very affordable especially if you take into consideration all the nickel and diming I was doing trying to find solutions online and thru traditional treatments.
I am now going to save my money and look into finding a human doctor that will help me do Dr Plechners treatment for myself as I battle with illness too!
He literally saved my dogs. Thank you from the bottom of our hearts!